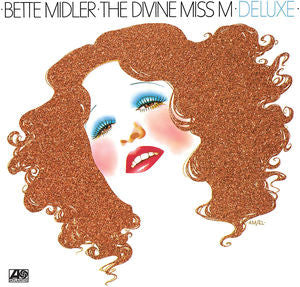 Bette Midler - The Divine Miss M (DELUXE 2CD set) 2016 CD
---
Digitally remastered and expanded edition. Bette graduated quickly from the cabaret circuit to pop stardom in '72, when her now-iconic debut LP The Divine Miss M went gold and sent her spirited spin on "Boogie Woogie Bugle Boy" to the top 10. The rest is showbiz history; now, Rhino is taking us back to the top, remastering Bette's first album and adding a disc of rarities plus liner notes by Better herself. You get single mixes of "Friends," "Chapel of Love," "Do You Want to Dance" and "Boogie Woogie Bugle Boy," demos of "Saturday Night" and "Mr. Freedom and I," early versions of "Old Cape Cod," "Marahauana" and more precious snapshots of the very beginning of a spectacular career in entertainment.
(Bette's  hair is  metallic in the packaging!)  New/sealed CD - out of print but we have a couple left.
CD1
1. Do You Wanna Dance?
2. Chapel Of Love
3. Superstar
4. Daytime Hustler
5. Am I Blue 
6. Friends (Sessions 1) 
7. Hello In There
8. Leader of the Pack
9. Delta Dawn 
10. Boogie Woogie Bugle Boy
11. Friends (Sessions 2)
CD2:
1. Chapel Of Love (Single Mix)
2. Boogie Woogie Bugle Boy (Single Mix)
3. Do You Wanna Dance (Single Mix) 
4. Friends (Single Mix)
5. Old Cape Code (Early Version) 
6. Marahuana (Early Version)
7. Superstar (Alternate Version)
8. Saturday Night (Demo)
9. Mr. Freedom and I (Demo) 
---
---
---
Share this product
---
---